Educate, Unite, and Celebrate Community
Nova Scotia has over 50 strong and resourceful African communities.  Some of the African history, over the past four hundred years, have become absent from our public conversation.  For the next five weeks, we will recall the contributions of people and places to Nova Scotia's African history and how we can benefit from the lessons the past teaches us.
We extend this important lesson, to acknowledge that these Nova Scotian communities and personal histories have taken root and seeded in Mi'kmaqi, the ancestral territory of the Mi'Kmaq People.
This week we celebrate Dr. Carter G. Woodson: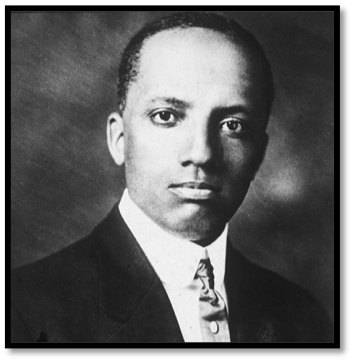 Dr. Carter G. Woodson, born in Virginia, launched the celebration in the United States known as "Negro History Week" in February 1926.  He chose the week to honour the birthdays of Abraham Lincoln and Fredrick Douglas.  By 1976, the week had expanded into a month celebration, long before migrating to Canada.
Dr. Woodson was a dedicated historian, who was concerned about what was lost by the omitting of Black History.  Dr. Woodson believed we must ALL learn and know the history of people of African descent. 
African Nova Scotians have been pioneers in carrying forward Dr. Woodson's vision.  In 1984, the first official Opening Night for Black History Week programs happened at the Halifax North Memorial Public Library.  In 1987, the first meeting of the Black History Month Association at the Halifax North Memorial Public Library.
Because of the dedication of those involved in establishing African Heritage Month activities in our own province of Nova Scotia, the federal government officially recognized February as "Black History Month" in 1996 (through the leadership of the Honourable Jean Augustine).  In 2008, Nova Scotia Senator Donald Oliver, Q.C. introduced a motion to have the Senate declare February as "Black History Month".  Those efforts led by the first Black Canadian woman elected to Parliament and the first Black Canadian man appointed to the Senate made it possible for celebration of Black History Month to become a permanent time for recognition and reflection in Parliament.