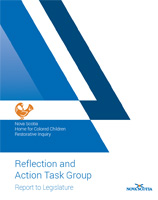 Government report reaffirms support for Nova Scotia Home for Colored Children Restorative Inquiry
Government tabled its first report on October 20, 2017 outlining its work supporting the Nova Scotia Home for Colored Children (NSHCC) Restorative Inquiry. The report reaffirms the Government of Nova Scotia's support for, and engagement in, the Inquiry.
The report looks specifically at Government's role and participation to date, not the full body of work that's being carried out by the Council of Parties. The Council of Parties oversees and manages all aspects of the Inquiry, including the timing of its work, using a restorative approach.
Reflection and Action Task Group Report (PDF 389 KB)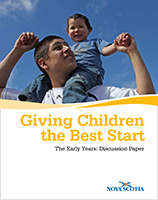 Giving Children the Best Start: The Early Years Discussion Paper
ANSA is pleased to share this report with the community and to the participants who came out to the sessions we organized.
African Nova Scotians are strongly encouraged to continue to be involved in these discussions through their Day Care Centres and their Board of Directors; Family Resource Centres; Ratepayers Associations and Church organizations.
Giving Children the Best Start: The Early Years Discussion Paper (PDF 451 KB)
Le meilleur depart possible pour les enfants : La petite enfance – Document de travail (PDF 508 KB)
Cultural Assets of Nova Scotia - African Nova Scotian Tourism Guide
Come visit the birthplace of Canda's Black community. Our presence in this province traces back to the 1600s, and we were recorded as being present in the provincial captial during its founding in 1749. Today, some 300 years later, there are festivals and gatherings throughout the year that acknowledge and celebrate the vibrant, rich African Nova Scotian culture.
We will always be here, remembering and honouring the past, living in the present, and looking towards the future.
Cultural Assets of Nova Scotia - African Nova Scotian Tourism Guide (PDF 4 MB)