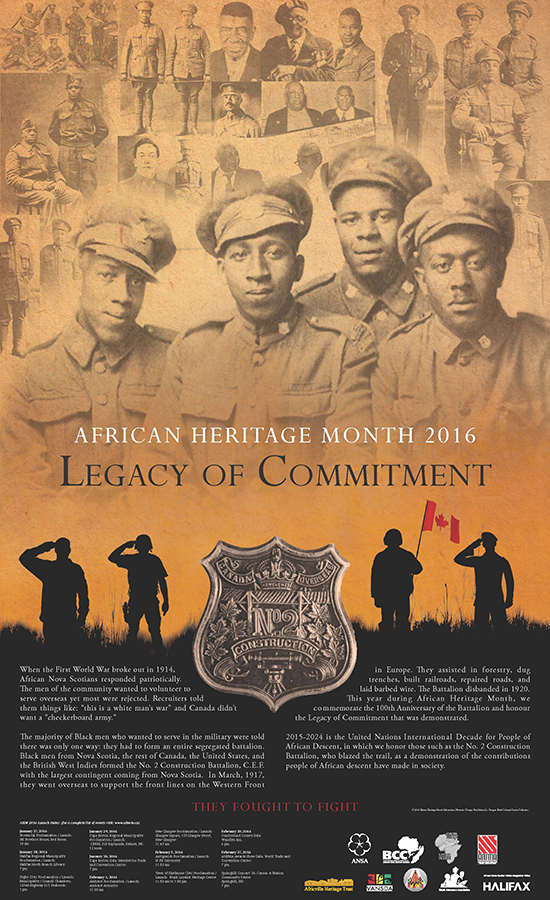 Legacy of Commitment – They Fought to Fight
Download our 2016 African Heritage Month poster:
African Heritage Month Poster 2016 (English PDF 1.14 MB)
African Heritage Month Poster 2016 (French PDF 928 KB)
To obtain a hard copy of 2016 poster please go to the pick-up location – View locations
Our Legacy
When the First World War broke out in 1914, African Nova Scotians responded patriotically. The men of the community wanted to volunteer to serve overseas, yet most were rejected. Recruiters told them things like: "this is a white man's war" and Canada didn't want a "checkerboard army".
The majority of Black men who wanted to serve in the military were told there was only one way: they had to form an entire segregated battalion. Black men from Nova Scotia, the rest of Canada, the United States, and the British West Indies formed the No.2 Construction Battalion, C.E.F. with the largest contingent coming from Nova Scotia.  In March 1917, they went overseas to provide support on the Western Front in Europe. They assisted in forestry, dug trenches, built railroads, repaired roads, and laid barbed wire. The Battalion disbanded in 1920.
This year during African Heritage Month, we commemorate the 100th anniversary of the Battalion and honour the legacy of commitment that was demonstrated.  
African Heritage Month in Canada
The commemoration of African Heritage Month in Canada can be traced to 1926 when Harvard-educated black historian Carter G. Woodson founded Negro History Week to recognize the achievements of African Americans. Woodson purposefully chose February for the birthdays of Frederick Douglas and Abraham Lincoln, both key figures in the emancipation of enslaved blacks: In 1976, as part of the American Bicentennial celebrations, Negro History Week was expanded to Black History.
The African Heritage Month Information Network is a partnership with African Nova Scotian Affairs, The Black Cultural Society (Organizational Lead),  African Nova Scotian Music Association, African Nova Scotian North-Central Network, African Heritage Month Southwest Network, Africville Heritage Trust, Black History Month Association, Cumberland African Nova Scotian Association, and Valley African Nova Scotian Development Association, the Halifax Regional Municipality's African Nova Scotian Integration Office, and the Guysborough, Antigonish Strait African Regional Network.